Cannabis has always been known to make good things better and exploring the great outdoors is undoubtedly one of those things. Camping and cannabis have gone hand in hand for generations. There's just something about passing a joint or pipe around a campfire with some friends after a long day of hiking, canoeing, fishing, or snowboarding, that feels truly timeless. 
Although the fusion of cannabis and nature is an enticing experience, it comes with a particular set of challenges when you consider harsh winds, rain, limited baggage space, and no power. We've all experienced crushed or wet joints, broken pipes, dead vaporizers, and lost lighters. Camping with cannabis can be a lot easier with the help of some specialized gear. 
We've put together a list of some outdoor-focused products perfect for that next trip.

Combo-Crusher by Wolf Grinders
One company from the Great White North (Canada), looking to bring solutions to service the on-the-go cannabis user is Wolf Grinders. They have a line of grinders and pipes that all focus on being travel-friendly, perfect for your next outdoor excursion. 
Their flag-ship grinder, the Combo-Crusher, is the swiss army knife of grinders. It was designed to go with you during your adventures. It's a 6-in-1 device that includes a removable pipe, lighter holster, bottle opener and more. The aluminum body of the pipe is fitted with a quartz glass bowl, offering users both durability and great taste.
The convenience of having everything you need in one compact grinder allows you to stress less, and take-in more when exploring the great outdoors. No more digging around in your pack looking for that lost lighter or pipe.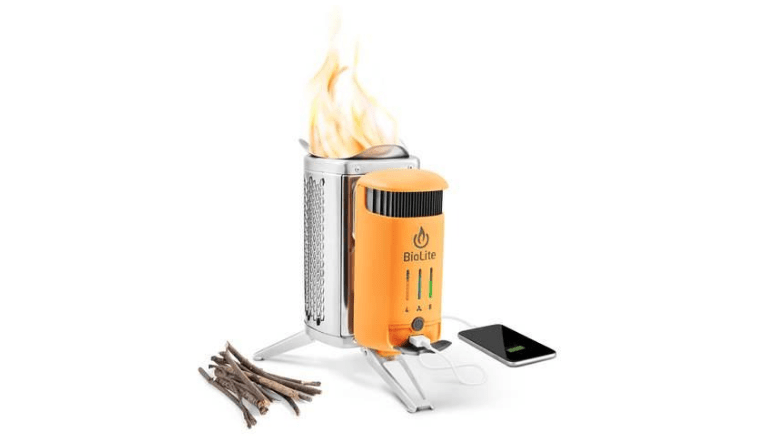 You're in the middle of your hike and your vaporizer dies! In the past, you would have to remain off-grid, but not anymore with the CampStove by BioLite. 
Sleek, handy, and eco-friendly, this stove does more than just cooking and boiling. Just like its predecessor, it converts the heat from a fire into electricity, allowing you to charge vaporizers, mobile phones, and other gadgets while being out in the great outdoors.
Veo Lighter by Plazmatic             
To handle harsh winds and unexpected rain, a simple gas lighter simply won't do. 
An inventor from the Bay Area, inspired by automakers switching to non-fuel burning electric cars, started creating electric lighters. They are a great addition to smoking outdoors and also have the benefit of being greener than traditional gas lighters. 
The Scorpion Pipe by Wolf Grinders
Another innovative product geared towards the outdoorsy cannabis user is the Scorpion Pipe by Wolf Grinders. This pipe features a folding stem, swivel cover, built-in poker tool and quartz glass bowl to ensure a smooth draw. 
Its aircraft-grade aluminum body makes it extremely durable so it's perfect on the most demanding excursions. The folding stem and swivel allow the pipe to lock closed in a small discreet looking cube. You can pack the bowl, fold it up, and go! They also have an XL version that's perfect for sharing around the campfire. 
Last on our list is the Silicone Bong by Roll Uh Bong. This bong has a fully heat-resistant silicone body, making it possible to collapse down in size and become super travel-friendly. The metal downstem and glass Eject-A-Bowl are removable and come in quite a few options as well.