If you're looking for holiday shopping guidance for the stoner, or medical cannabis patient, (or both) in your life, check out Candid Chronicle's weed gift guide that features mostly small & women-owned businesses.
5th Dimension's Clarity Drops
If you're shopping for a stoner, give their brain some support. The herbal tincture is specifically crafted to lift brain fog that frequent cannabis users can experience. Clarity Drops don't contain any cannabis, but the herbs infused into this non-alcoholic tincture include gotu kola and tulsi.
Shop Clarity Drops by 5th Dimension: $18
House of Clarity's Cannabis Clouds Earrings
Sparkling high in the clouds. These earrings are handmade and hand assembled using gold cannabis leaves with gems, suspended in resin. The artist, Mother Cee, uses clear resin and pigment to create the white cannabis smoke clouds effect.
Shop Cannabis Clouds Earrings House of Clarity: $30
Playboy Herb Grinder
Playboy's Pleasure For All launched a smoking accessory line including their Herb Grinder, plus a glass ashtray, glass pipe, joint case keychain, and rolling tray. The collection showcases sleek designs and pulling from 70's retro glam to mid-century minimalism. The line accompanies Pleasure For All's intimate & self care CBD products.
Shop Pleasure for All by Playboy's Smoking Accessories: $22-60
Cloud 9 Clay's Gumdrop Pipe
Show someone you think they're a sweetie with these uniquely shaped, handmade ceramic pipes. These pipes are a beautiful addition to bedside table for wake and bakers. The gumdrop pipe shown above is made with a swirl of pink/orange colored clay and natural clay, no decorative glaze added. Cloud 9 Clay also makes a variety of donut shaped pipes and ashtrays to brighten up your smoke sesh.
Shop Pipes by Cloud 9 Clay: $48
Tetra's Slide Lighter
Fuel free, rechargeable slide lighter for sparking spliffs. A sleek, small, pleasant surprise to toss into any stocking or gift bag.
Shop Slide Lighter by Tetra: $22
Broccoli's Silk Weed Scrunchie
Oversized, silk scrunchies featuring a puffy flower and cannabis leaf print designed Diana Lynn VanderMuelen. The scrunchies come in two colorways, hot and cool. If you're not into scrunchies, gift a subscription to Broccoli Magazine to your loved one to keep them up to date on cannabis art, culture, and fashion through to lens of an all woman team.
Shop Silk Weed Scrunchie by Broccoli: $14.99
Xula Herb's Touch + Soothe
Xula Herbs salve contains 600 mg CBD, 100 mg CBG, and is used for reducing aches and pains for your womb, muscles, and joints. Xula products contain 100% pesticide-free cannabis that is grown on a women-led farm.
Shop Touch + Soothe by Xula: $62
Elevate Jane's Glass Holder
Handblown glass joint holders, come in two sizes for minis or fatties. Simple, chic, and classy way to dress up your friend's smoking session.
Shop Glass Holder by Elevate Jane: $29
Michelle Lhooq's "WEED: Everything You Want to Know But Are Always Too Scared to Ask"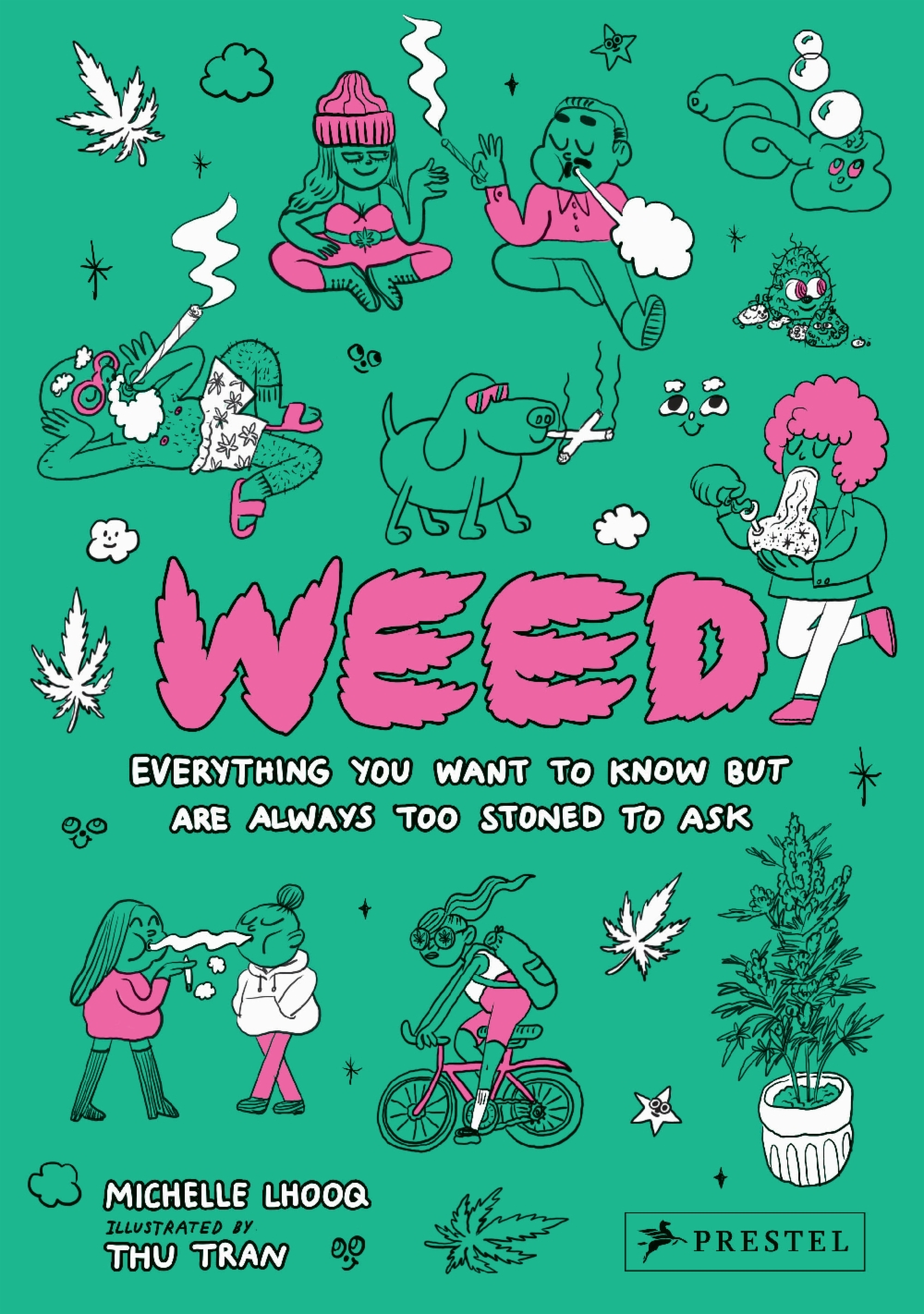 The title sums it up! Tips, recipes, amazing illustrations, information on growing, and proper weediquette.
Shop "WEED: Everything You Want to Know But Are Always Too Scared to Ask" By Michelle Lhooq: $19.95
Veil's OG Spray
If your friend needs to turn the volume down on the smoke odor in their home, gift them this room spray to remix the whole entire situation. Let their place transform with aromas of sweet orange, cracked black pepper, and Virginia Cedar.