Two major celebrations happen every year in April.
The first celebration occurs at the start of the month and honors humankind's ability to present a fantastical, shocking, or out-of-the-ordinary person, place, thing, or happening, achieve a response, then inform the person that they have been fooled.
The second celebration is a non-official world holiday where people gather together to partake in cannabinoid-packed treats and honor the magnificent plant that is cannabis.
The first celebration is very popular with practical jokers.
The second celebration is very popular with practical smokers.
Of course, I'm talking about April 20, or more familiarly, 420.
The Cannabis Holiday
While 4:20 p.m. is a popular time for many to consume cannabis on a daily basis, for many, 420 is whenever you make it.
After all, it's always 4:20 somewhere, right?
And with the spread of legalization over the past decade, there is an ever-growing selection of cannabis products on the legal market.
Flower by Edie Parker is even paying tribute to the progress made in cannabis legalization with a Virginia Slims ad-inspired campaign featuring a variation on the famous "You've Come A Long Way, Baby" slogan.
The ad originally focused on independent, stylish, confident, and liberated women, highlighting progress made in the feminist movement.
The Flower by Edie Parker campaign features postings and billboards with Richie Shazam, Tiffany (Fiffany) Luu, and Faith Jaggernauth in Boston, Chicago, Los Angeles, and New York City.
The legal market has also paved the way for new and innovative products like the Chiba Chia Bong.
According to cannabis retailer High Tide data, water pipes/bongs, vapes, and hand pipes are the top-selling consumption accessories in the United States.
High Tide also says that edibles are on the rise, but beverages growth remains flat, despite introducing innovations, like nano THC, into the market.
If you are the type that likes to celebrate 420 every day, or you are more of an occasional cannabis user, below you will find a plethora of items that will make your holiday a little more special.
FLOWER
Insane OG
For an insane holiday experience, celebrate 420 with some flowers from one of the music industry's top cannabis connoisseurs.
With its signature caryophyllene, limonene, and myrcene terpene profile, B-Real's Insane OG is a relaxing Kush strain you will want to have by your side on 420.
Packages of Insane OG are available at Dr. Greenthumb's dispensaries for $50.
22Red Flower
If you want some premium cannabis flowers that pack a punch, check out System of a Down bassist Shavo Odadjian's 22Red strains.
Featuring a variety of potent strains, 22Red is available at cannabis shops in Arizona, California, and Nevada for approximately $50.
22Red cannabis is now available at STIIIZY dispensaries in California.
Helmand Valley Growers Chillums
A perfect addition to your 420 celebration, Helmand Valley Growers Company has debuted its pre-filled Chillums.
The Chillums, which you can refill with flowers of your choice, come infused with liquid diamonds to bring the THC up to 40 percent.
As with other Helmand Valley Growers Company products, the company will donate 100 percent of profits from Chillum sales to the Battle Brothers Foundation for research on how cannabis can help veterans.
Helmand Valley Growers Company's pre-packed Chillums are available at California dispensaries for $20.
Caliva Premium Flower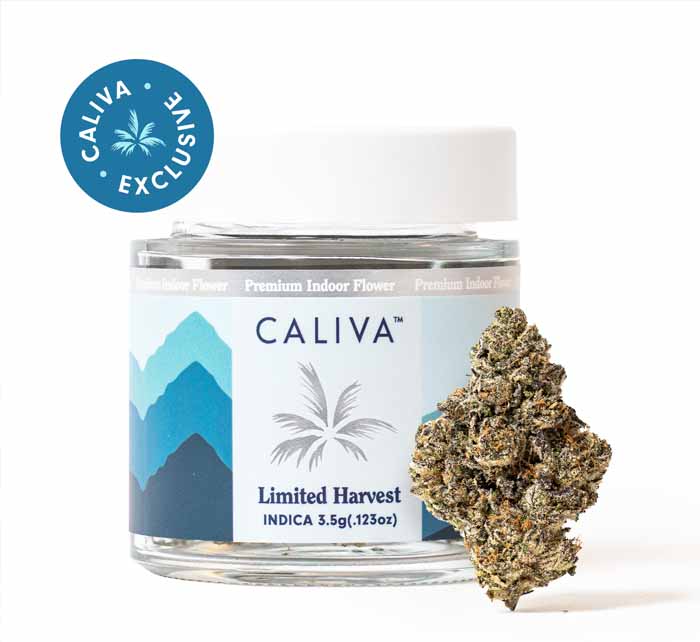 Want a little something special and exclusive for the 420 holiday?
San Jose-based cannabis company Caliva is releasing a limited harvest of premium annabis flowers just in time for the holiday.
Caliva says the Caliva Hibachi strain, rich in limonene, linalool, myrcene, and caryophyllene, is its highest quality jars of cannabis flower to date.
According to the company, the Caliva Hibachi strain is a blend of Guava with the Gelato lineage with a complex terpene profile.
Caliva says the aromas cross the spectrum from sweet fruit, musky, creamy gas, and cinnamon before circling back to a tart berry finish.
To unleash Caliva Hibachi's rich, buttery, floral citrus smoke, the company recommends grinding the flowers before smoking.
Caliva calls the strain, to be available for $40, a time-dissolving heavy hitter that will have you reminiscing about the first time you got high.
Raw Garden Infused Joints
Step up your joint game with an infusion from Raw Garden.
Just in time for the 420 holiday, Raw Garden has released a line of pre-rolls infused with Micronized Refined Live Resin Crushed Diamonds.
To ensure quality and freshness, Raw Garden says it crafts its joints in-house by hand in small batches with no trim, additives, or artificial flavoring.
Available in cannabis shops across California, Raw Garden's lineup includes Sweet Fire Funk (Indica), Margarita Cake (Sativa), and Gorilla Gold (Hybrid).
Saucey Farms & Extracts Flowers & Pre-Rolls
Founded by A-list celeb jeweler-turned-cannabis-entrepreneur Alex Todd, Saucey Farms & Extracts has a collection of organic, slow-cured, premium-grade flowers and pre-rolls that will surely elevate your 420 holiday.
Saucey recently expanded operations into Michigan and will offer special deals in conjunction with the 420 holiday.
Saucey Shorty's – Sherbacio Pre-Rolls ($56)
Saucey calls Sherbacio an evenly balanced hybrid strain with a sweet, nutty flavor and hints of citrus and creamy overtones.
According to Saucey, the Sherbacio strain brings on feelings of focus, happiness, and euphoria at the onset of the high followed by a deep relaxation that soothes aches and pains.
Saucey says some people use Sherbacio for treating chronic pain, ADD, ADHD, chronic stress, depression, and insomnia.
Saucey Pre-Roll 4-pack – Gushmints ($56)
Gushmints is a hybrid strain with creamy gas and minty flavors and a lusciously packed dessert of relaxation.
Saucey describes Gushmints as a highly-potent classic hybrid strain with a happy, uplifting body and mind high.
According to Saucey, the Gushmints strain is known for helping with insomnia and depression.
CAPO Blunt – Ice Cream Mints ($25-30)
Saucey says Ice Cream Mints (Indica-dominant) has the powerful gassy and musky smell of wedding cake with a creamy, milky accompaniment.
A blend of Gelato and Kush Mints, the relaxing strain features large flowers, exaggerated node spacing, and purple hues.
Saucey 1/8 Flower – Triple F'n OG ($52-70)
Triple F'n OG is an Indica-dominant hybrid with a sweet, pungent aroma, hints of berries, lemons, pine, diesel, and an earthy undertone.
With a balanced blend of sweet and sour flavors, Triple F'n OG brings a strong cerebral rush followed by a deep body high.
Saucey says the strain is great for relief from stress, pain, and depression and will keep your mind clear as the day's worries melt away.
Saucey Smalls – Georgia Peache' – ($74-85)
With a tingly and sophisticated high, Saucey says Georga Peache' will have you feeling lifted and relaxed for hours.
Georgia Peache' features a sugary-sweet and fruity peach flavor with a kiss of sour citrus and nuttiness.
Saucey says the strain's high is delightful and relaxing with effects that boost the spirit and stimulate the body.
Humboldt Seed Company Seeds
If you're looking to do a little planting in addition to enjoying the cannabinoid-packed fruits of yours or someone else's labor, look no further than the Humboldt Seed Company.
Just in time for the planting season, the Humboldt Seed Company has released its new Poddy Mouth strain, a blend of Mountaintop Mint and Humboldt Pound Cake.
With an average 24 to 30 percent THC range, Poddy Mouth is a stoney, euphoric, relaxing strain that the Humboldt Seed Company says will help keep cannabis farmers' heads above water during this challenging time.
"This line guarantees you'll have bag appeal," says Humboldt Seed Company Founder Nat Pennington. "And moves off the shelf quickly, making your outdoor look like indoor and your indoor like it's from another planet."
CONCENTRATES

Lime Infused Ready to Roll
According to De Beers, diamonds are a girl's best friend.
But if you talk to cannabis concentrate connoisseurs, they are also big fans of diamonds, regardless of gender.
But cannabis consumers are looking for the diamonds that put a sparkle in your eye rather than on your finger.
A perfect compliment to your 420 celebration, Lime has Ready-ToRoll cannabis infused with liquid diamonds and ice water hash.
Lime calls its OG strains a rich blend of hybrid flower that it sources from small-batch Emerald Triangle farmers.
Lime's Ready to Roll products retail for $32.20 per 1/8oz and are available at more than 500 dispensaries across California.
Select Elite Live Oil
One of America's largest and best-selling cannabis brands has unveiled a new limited-release cannabis oil.
The release is part of a collaboration with premium craft cannabis brand Sonoma Hills Farm.
Select says it handpicks sun-grown California cannabis from Sonoma Hills Farm and turns it into its Elite oil with a higher terpene profile for enhanced flavor.
The collaboration features an R&D Sativa strain called Jalapeño Gelato.
Jalapeño Gelato is a blend of Chili Verde, F1 Durb x Gushers, Expect a Ginger with Expect a Ginger, Thai Chili, and Diesel characteristics.
The collaboration also includes Durban Biscotti, Melonade #8, Grandi Guava, First Class Funk, and Cherry Cheesecake.
EDIBLES
Happi Sparkling Water
Celebrate life's happy moments, especially 420.
If you're looking for a quality liquid edible with a lighter THC content, you'll want to try Happi's fruit+botanical sparkling waters, manufactured and sold in Michigan.
Happi's consumer-inspired flavors, Pomegranate-Hibiscus, Lemon-Elderflower, and Raspberry Honeysuckle contain 2.5mg THC, though Happi plans to release more-potent 5mg versions of the beverages during summer 2022.
Thanks to a great little care package from Happi, I was able to try the Pomegranate-Hibiscus and Lemon-Elderflower flavors.
Both flavors were fruity, floral, light, and delicious with a pleasant little dose of THC.
Keeping it simple, the Pomegranate-Hibiscus flavor has just seven ingredients; carbonated water, organic pomegranate and lemon juice, organic agave nectar, natural hibiscus flavor, vitamin C, and cannabis extract.
With 2.5mg THC, Happi's beverages are perfect for social gatherings as you can have a few without getting too high.
Happi President Lisa Hurwitz says Happi formulated its beverages to mimic the equivalent of one serving of alcohol for the average woman.
Hurwitz says Happi recently implemented a new dosing technology that precisely doses each can to ensure product consistency.
Utilizing the efficiency of nano-THC, Happi beverages have an approximate onset time of 12 minutes, and the effects last for a few hours.
Hurwitz says Happi's mission is to provide a consistent sipping experience to celebrate big and small occasions.
"Raspberry Honeysuckle is my favorite of our products on the market," says Hurwitz. "I just love the crisp raspberry flavor and the hint of sweetness from the honeysuckle. It reminds me of summers I spent as a kid pulling honeysuckle off of bushes to get that little drop of honey. I am also very excited about our new lineup of flavors for our functional beverages launching later this year."
Hurwitz says Happi, the first cannabis beverage on the Michigan market, is more than a replacement for alcohol, and additional beverages with other cannabinoids like cannabinol (CBN) and cannabigerol (CBG) are in the company's pipeline.
Good Stuff Beverage Co. Shots
For the 420 holiday, you'll want to ditch the alcohol for the day and replace it with some of the Good Stuff.
Just in time for 420, the Good Stuff Beverage Co. has released 2-ounce, shot-sized versions of their larger 12.7-ounce bottles.
Great for shots or mixing into mocktails, each 2-ounce bottle contains 100mg THC and a delicious blend of all-natural ingredients.
The shot-sized bottles, available in Key Limeade (Sativa) and Honey Lemonade (Indica), sell online and at California dispensaries for $10.
Last Leaf Macaroni & Cheese
With all of the cannabis-infused gummies, chocolates, candies, brownies, and cookies on dispensary store shelves, there is no shortage of sweet edibles on the market.
But if you're the type that enjoys a savory edible, Last Leaf has a cannabis-infused version of an American favorite that you'll want to check out.
Crafted by celebrity chef Todd English, Last Leaf's cannabis-infused macaroni and cheese varieties are great as a snack or a side dish.
Available in Classic Macaroni & Cheese and Pasta Shells & White Cheddar, each package contains 10mg THC.
Last Leaf's Macaroni & Cheese is available at cannabis shops across California, like Cannabis Culture Club, and will be at Cookies and Lemonade dispensaries on Friday, April 15.
Lime Syrups
Lime wants to add some flavor to your 420 holiday with its line of syrups, great for creating refreshing mocktails.
Bottles of Lime syrups contain 1,000mg THC and come in Guava, Honeydew Melon, Lemon Lime, Blue Raspberry, Grape, Cherry, Watermelon, Pink Lemonade, and Pineapple.
Lime's syrups are available online and at dispensaries across California.
Hervé Macarons

Looking for something delicious, elegant, and artisanal for your 420 festivities?
Hervé's cannabis-infused gourmet macarons will add a bit of sophistication to your elevation celebration.
In addition to well-crafted flavors and ample cannabis content, each macaron comes painted with a swath of real gold on the top.
Currently, Hervé is celebrating its California launch with a special bundle deal for consumers.
Right now, when you buy three three-packs of macarons, Hervé will include a free t-shirt, cap, and three-pack of Birthday Cake flavor macarons.
The Hervé Bundle, which includes Raspberry, Salted Caramel, Chocolate, and Birthday Cake flavors, retails for $60.
Hervé Le Mirage
For a discrete way to medicate on the go during your 420 holiday, check out Hervé's Le Mirage cannabis-infused candies.
With a convenient and compact dispenser, they're like a better-tasting Pez for adults.
Hervé makes the 2-calorie candies vegan, gluten-free, and with no added sugars.
According to Hervé, you can also dissolve the candies in hot water to make a cannabis-infused tea.
Le Mirage candy flavors include Sour Watermelon and Peppermint flavors and are available for $20 on Hervé's website.
Seaweed Naturals Gummies
If you are the health and eco-minded type, you'll want to look at Seaweed Naturals from Ashlan and Philippe Cousteau.
Seaweed Naturals has cannabis-infused gummies with omega-3 fish oil, seaweed, and marine algae that are ocean-safe and vegan.
The 10mg Sativa-infused High Tide Gummies feature restoratively-farmed seaweed and marine algae to help you feel brighter, happier, and more focused while dealing with anxiety, muscle tension, minor aches, and pains.
The 10mg Indica-infused Low Tide Gummies feature melatonin and restoratively-farmed seaweed and marine algae to help calm your mind, wind down, and achieve restful sleep.
Ten-piece packages of Seaweed Naturals gummies retail for $22 on the company website.
Gem Drops
For a tasty addition to your 420 celebration, check out Leune's Gem Drops.
Leune makes its Gem Drops with fruit extracts, non-GMO ingredients, and full-spectrum rosin.
Each 5mg Gem Drop is vegan, gluten-free, corn syrup-free, and artificial ingredient-free.
Gem Drop flavors include Cloud Berry, Sol Berry, Desert Gold, and Piña Dream.
Packages of Gem Drops are available at California dispensaries.
Elevated Wellness CBD Sleep Aid
When your 420 holiday comes to an end, you may not need a sleep aid, but if you do, Elevated Wellness has just the thing.
The Elevated Wellness CBD Sleep Aid ontains 2,000mg of hemp-extracted CBD (67mg per dose), premium-grade melatonin, organic MCT oil, and mint extract.
Elevated Wellness also makes a Delta-8 version of the tincture that it can ship to places where Delta-8 is legal.
ACCESSORIES
Dr. Greenthumb's x Gpen Dash
For portability, potency, and convenience, check out Dr. Greenthumb's x G Pen Dash.
The Dash features a glass-glazed stainless steel heating chamber with three temperature settings, a clean air source, and an integrated air path for enhanced flavor and vapor production.
Other features include a magnetic mouthpiece that detaches easily for cleaning, pass-through charging, and automatic shutoff.
Available online, the Dr. Greenthumb's x G Pen Dash retails for $89.95.
Poke A Bowl Ashtray
Improving on conventional ashtrays, the Poke A Bowl Ashtray is an odor-proof smoking accessory with a lid that removes ash and resin from your bowl.
According to the company, Poke A Bowl features the market's thinnest and sturdiest heat-resistant silicone cleaning spike, which easily pokes through bowl holes to ensure a cleaner bowl without breakage.
The Poke A Bowl Ashtray retails for $25.00.
OG OTTO
Before you poke a bowl, you need to pack a bowl, and Banana Bros. has just what you need for that.
The OG OTTO is an AI-enabled automatic cone filling machine that Banana Bros says will grind, mill, fill and roll your favorite cannabis flowers and cuts without the tiresome work of rolling a joint by hand.
Banana Bros says you can also use the OG OTTO to make perfect blunt-filling material or edibles because its expanding chamber and milling technology doesn't compress the flowers before grinding.
According to the company, the quality of the material that the OG OTTO produces is perfect for both smoking and edibles.
The OG OTTO retails for $149.99.
CHAR-COOL Filters and Filter Holders
To get all the hit without the heat during your session, check out Banana Bros CHAR-COOL filters, which filter and cool the smoke, elevating the flavor and eliminating harshness.
Eliminating any harshness of cannabis smoke translates to less coughing and throat irritation.
The company says premium cones easily pop in and out of the filter holders, allowing users to share joints without transferring germs.
The CHAR-COOL Starter Kit retails for $12.99 and includes four filters and two reusable silicone filter holders.
Cannabolish Spray
When your smoke session is complete, you may want to clear the air.
To help remove any unwanted scents lingering in the room, Cannabolish's Odor Eliminating Spray absorbs odors rather than covering them up like traditional air fresheners.
Cannabolish formulates its non-toxic spray, which comes in Wintergreen and Lavender, with natural plant oils and water.
Eight-ounce bottles of Cannabolish Odor Eliminating Spray retail for $11,99.
The Brain on Cannabis
While this accessory isn't for consuming cannabis, it will help you better understand how your brain interacts with the plant.
In The Brain on Cannabis, psychiatrist Rebecca Siegel examines the medical and adult-use markets through her patients' eyes.
The book also focuses on dispelling cannabis myths while looking at how the brain and body respond to cannabis through the use of medical research and studies.
420 ACTIVITIES
Seed to Sale Tour
If you live near Denver, Colorado, or plan on being there around April 20, you can kick off the 420 holiday with a free tour of an actual grow facility.
Seed & Smith is offering a free look at how it grows cannabis at its state-of-the-art cannabis cultivation facility with its From Seed to Sale tour.
During the tour, guests will see how the company grows, harvests, extracts, processes, and packages cannabis.
Tour guests can peek into grow rooms, hold a pound of the finest cannabis, witness the extraction process, and smell freshly-extracted terpenes.
The free Seed & Smith tours, which last approximately 40 minutes, run from 12 p.m. to 6 p.m. on Thursday and Friday, and 11 a.m. to 2 p.m. on Saturday and Sunday.
Pottery with a Purpose – Clay Pipe Craft
Because of its inspirational effects, cannabis consumption is commonly associated with partaking in creative activities like painting, drawing, making music, and sculpting.
If you'd like to try your hand at sculpting your own cannabis pipe this 420, all you need is a kit from Pottery with a Purpose and a little instruction from Founder Samantha Hoff.
Give special attention to steps #6 and #7 as they are essential to using your pipe after you craft it.
Materials Needed:
Ceramic clay (PWP has their beginner kit

here

)

A round skewer

A ribbon or wire pottery tool

Flat work surface

Optional – Sponge

Optional – Underglazes to decorate your pipe
Instructions:
On a flat surface, roll a coil of clay that is about 1/2 inch thick

Cut the coil a little longer than the length you'd like your chillum to be. Note: clay can shrink up to 15%.

Use your wire ribbon tool to carve out a bowl on one end of the coil

Carefully push the skewer through the center of the bowl out through the other end of the coil

Smooth the bowl + ends of the chillum with your finger or sponge

Let your piece dry, then decorate with underglaze

Get your pottery professionally fired and glazed

Enjoy your one-of-a-kind one-hitter
I hope I've given you some ideas and inspiration to help level up your cannabinoid-infused celebration.
But whatever you have planned for your holiday activities, remember to medicate safely, corner the bowl when sharing, you can always eat more but never less, and have a happy 420!