The 2021 holiday season is upon us and once again and there's that certain something that fills the air every year about this time.
You know what I'm talking about.
It's that feeling that all of the decorations, colors, lights, chilly weather, music, and seasonal foods bring when November and December roll around.
The time brings a sense of calmness and comfort after the frightfully fun-filled Halloween season each year.
But as that certain something lingers in the air this holiday season, you may want to add to it with some of your own special Christmas cheer.
In the modern age of legal cannabis, there is a vast selection of cannabinoid-infused products available to consumers in states where they are permitted.
In 2021, more than half of the United States allows legal access to cannabis under either medical or adult-use laws.
In legal states, the extensive variety of cannabis flowers, edibles, tinctures, oils, supplements, and topical products provides consumers with a never-before-seen range of choices.
So if you're looking for something to spice up your season, check out Candid Chronicle's lineup of Christmas cannabis gift ideas, Thanksgiving specials, and hempy holiday enhancers.
Green Wednesday Thanksgiving Specials
Two days before one of the nation's biggest merchandise sales days hits on Black Friday, cannabis retailers are offering special Green Wednesday (11/24) deals to boost your appetite on Thanksgiving Day and help you relax after hitting the stores on the following day.
Seed & Smith's Week-Long Black Friday Savings Event
Colorado-based cannabis company Seed & Smith is offering a variety of special deals and promotions beginning Monday, November 22 and ending Monday, November 30.
Specials include daily flash sales at the company's Lousiville and Denver locations.
During each day of the promotion, Seed & Smith will announce major sales on their Instagram account that will only last for a few hours.
Sales will happen during various time slots throughout the day, covering early bird, day tripper, and night owl categories.
C3 Dispensary Deals
Starting on Green Wednesday, C3 dispensaries in Michigan and Missouri will provide special discounts, some of which are good for the rest of the week.
C3 Michigan
To celebrate Green Wednesday, Michigan and Missouri C3 High Profile Dispensaries customers can pick up a Thanksgiving Survival Kit for $50.
The kit includes a Cloud Cover vape cart, two Cloud Cover pre-rolls, and a 100mg package of gummies.
From Wednesday, 11/24, through Sunday, 11/28, Michigan C3 High Profile Dispensaries will offer the following deals:
-$50 Cloud Cover Flower Bundle (2 pre-rolls, 1/8th of flower)
-4 for $100 vape carts (Cloud Cover, Platinum Vape, The Clear, Double Bear, Crude Boys, Picanna)
-3 for $25 pre-rolls
-$100 ounces of cannabis flower
-3 for $100 Cloud Cover concentrates (excludes diamonds, live resin, and rosin)
-2 for $15 gummies (Bolt, Choice Chews, Quicky, Ubaked)
-Buy-one-get-one 50 percent off edibles (Kiva, Camino, Petra, Terra Bites)
C3 Missouri
From Wednesday, 11/24, through Sunday, 11/28, Missouri C3 High Profile Dispensaries will offer the following deals:
-$100 Flora Farms Flower Bundle (2 1/8ths of flower, 2 prerolls)
-$75 bundle (1 Clovr .5g vape cart, 1 Keef 100mg beverage)
-2 for $50 edibles (Sweet Stone, Greenlight, Happy Days, Fireball, Robhots, Honeybee)
-20 percent off two or more pre-rolls (all brands)
Tilt – Commonwealth Alternative Care
Tilt, which services brands and cannabis retailers in 36 states, is offering a limited-availability offer of 14 pre-rolls for $99 during Thanksgiving Week.
Festive Flowers
Presidential Pre-Rolls
If powerful pre-rolls sound like the perfect gifts, or something that you'd enjoy as a personal holiday enhancer, consider a Presidential MoonRock preroll.
Dubbed The World's Strongest, the Presidential MoonRock pre-roll is crafted with top-shelf organic flower, premium clear distillate, and coated with the highest quality kief.
Presidential says its innovative proprietary infusion allows permeation of the flower all the way to the filter.
Each Presidential MoonRock Pre-Roll is constructed with a natural unbleached hemp paper cone.
Hella Jelly
While many enjoy taking a trip to the dispensary and picking out their favorite flower flavors, either loose or in pre-rolls, some also like the experience and satisfaction of cultivating and harvesting their own plants at home.
If you are a green thumb type and like raising cannabis plants, the Humboldt Seed Co. has some feminized seeds that you'll want to check out.
The fast-flowering Hella Jelly strain is a 30:70 Indica-Sativa hybrid of Very Cherry and Notorious THC that Humboldt says is vigorous, highly uniform, and easy to grow.
With cotton candy, strawberry, and grape flavor notes, Hella Jelly boasts an average THC content of 26 to 30 percent.
Canndescent
In addition to a variety of individual cannabis flower jars and pre-roll packs, Canndescent is offering a limited-edition five-jar gift box, a perfect gift for someone special in your life.
Each individually-numbered gift box comes with five jars of pesticide-free, hand-trimmed Canndescent flower, rolling papers, matches, and organic hemp wick.
Good Green Popcorn Buds
Before you string up the popcorn and wrap it around the Christmas tree, you'll want to start with Good Green's popcorn buds in your bowl or roll.
Available in energizing Sativa, relaxing Indica, and balanced Hybrid varieties, Good Green's popcorn buds are great for a quick bong rip or grinding up for a joint.
Good Green cannabis is available in Illinois, Pennsylvania, Maryland, Massachusetts, and New Jersey.
Proceeds from Good Green sales support local nonprofit organizations.
Rythm Flower
With a mix of classic and new strains throughout the year, Rythm offers cannabis flowers with optimal potency, rich flavors, and lush aromas.
Available in 3.5g jars, Rythm cannabis comes in popular strains like Brownie Scout and Jack Herer.
Dogwalkers
If you're at a holiday gathering and need to step out for a moment to walk the dog or just yourself, Dogwalkers has just the perfect complement to your brief stroll.
Available in 0.35g Mini Dog and 0.75g Big Dog sizes, Dogwalkers pre-rolls can provide some extra enjoyment to your walk around the block or across the neighborhood.
In conjunction with a partnership with the Foundation for TJO Animals, TAPS No-Kill Shelter, Nevada SPCA, and PetConnect Rescue, a portion of the proceeds from all sales goes to animal shelters across the country.
Glass House Farms
If you're looking for cannabis that will help you relax but not overwhelm you with its THc effects, Glass House Farms has a couple of strains you'll want to consider.
Jelly Fish
A company-exclusive strain, Glass House Farms says Jelly Fish is cultivated to produce a rare balance of familiar and up-and-coming cannabinoids to produce a barely-there high.
Jelly Fish combines a moderate amount to THC with a substantial and harmonious serving of CBD, CBC (cannabichromene), and CBG (cannabigerol) to provide balance and relaxation.
Tangelo Flo
For a bit of sweet relief that doesn't leave you stoned to the bone, check out Tangelo Flo.
With a 1:1 ratio of CBD to THC, Tangelo Flo provides a balanced, calming high without a heavy dose of THC.
The Tangelo Flo strain, created by FRB Genetics, blends the soft scent of ripe cherries with zesty lemon undertones and deep funk.
Vapes
Airgraft
Dubbed the Netflix of Vapes, Airgraft is the world's first membership program, offering access to unlimited pods from a variety of California producers for $10 a month.
With a $10 battery and $10 monthly subscription fee, customers can access brands like Friendly Farms, Gold Drop, and Holy Water.
The company's pocket-friendly Airgraft 2 device features a unique miniaturized vapor technology and heating algorithm to vaporize oil without burning.
The units, powered by Magic Key smart technology, forego using traps and filters to free up 40 percent more oil per pod.
Units can be activated and unlocked with unique membership-linked QR codes.
Platinum Vapes
Perfect for a few quick puffs at holiday gatherings, Platinum offers a lineup of vape cartridges and disposable vapes filled with premium cannabis oil.
Platinum's THC vape cartridges are available in Indica, Sativa, and Hybrid varieties and 15:1, 10:0, and 1:1 CBD-THC mixtures.
Helmand Valley Growers Company
If you'd like to support a veteran-owned company this holiday season, consider purchasing some vape cartridges from the Helmand Valley Growers Company (HVGC).
HVGC donates 100 percent of its profits to research how veterans with PTSD, chronic pain, and other health issues can benefit from medical cannabis use.
HVGC offers a selection of Sativa, Indica, and Hybrid vape cartridges made from strains like Super Lemon Haze, Sour Diesel, Purple Trainwreck, Headband, and Sundae Driver.
The company also has a variety of pre-rolls in strains like Afghanimal, Purple Kush, and ATF.
Gage
Perfect for the holiday season, Gage has a selection of 1g vape cartridges that can add a little extra merry to your Christmas.
Filled with clean processed cannabis distillate from the company's own crops and made with reliable hardware, Gage vapes offer a pure taste that you are sure to love.
Beboe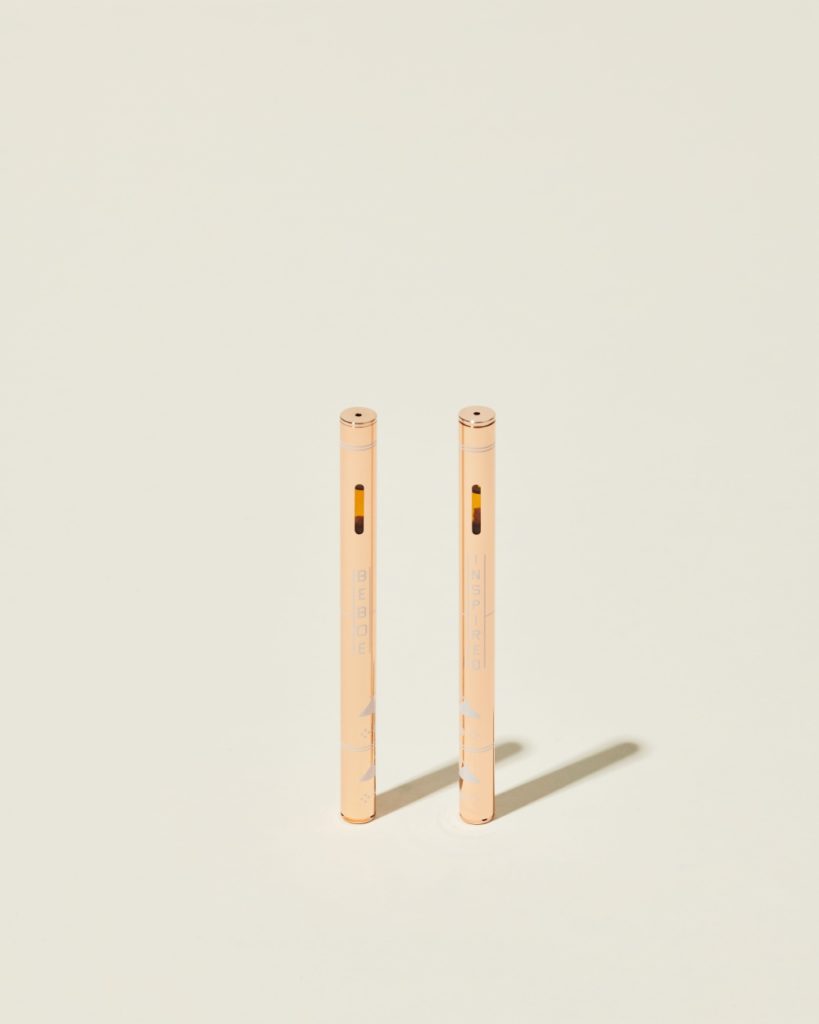 Beboe's breath-activated disposable vape pens are a stylish and convenient way to give your cannabinoid levels a little boost at any given moment.
Each 500mg vape comes filled with socially-dosed cannabis oil that is 65 percent THC, 12 percent CBG, and 7 percent CBD.
The citrusy Beboe vape formulation also features a boost of Caryophyllene, D-Limonene, and Beta Myrcene terpenes.
Beboe describes the high as gentle, euphoric, clear-headed, and unlike any other.
Beboe vapes are 100 percent natural, with no artificial cutting agents, MCT oil, propylene glycol, vegetable glycerin, or vitamin E acetate.
Motif Magnetic Vape Pen
Brand new and just in time for the holidays, Etain Health has released the Motif Magnetic Vape Pen in charcoal.
The new vape pen is an update to Etain's original Motif, featuring a magnetic quick-connect-and-release design that makes it easy to swap oil pods in seconds.
Each Etain Pod comes filled with additive-free, full-spectrum, terpene-rich oil, which the rechargeable Motif Magnetic Vape Pen's draw-activated system precisely doses.
The Motif Magnetic Vape Pen will be available for $35 at new York Etain shops in Manhattan, Kingston, Syracuse, and Yonkers later in December.
Enticing Edibles
Papa & Barkley Sleep Cannabis-Infused Releaf Chocolate and Gummies
Releaf Chocolate
If quality sleep is a scarce commodity in your life, Papa & Barkley has a delicious way to help you get a good night's rest.
Each 20-serving bar of Papa & Barkley's Sleep Cannabis-infused Releaf Chocolate, which contains 40mg CBD, 80mg THC, and 20mg CBN, is made with fresh-pressed rosin blended with natural pomegranate flavor for a sweeter, sleepier nightly ritual.
A single serving (one triangle) contains 2mg CBD, 4mg THC, and 1mg CBN to help you fall asleep faster and sleep well throughout the night.
Releaf Gummies
Papa & Barkley also has 20-piece bags of vegan, low-calorie, solventless-rosin-infused Sleep Releaf Gummies, made with natural fruit flavors.
Each naturally-flavored blackberry-elderberry gummy has 2mg CBD, 4mg THC, and 1mg CBN to help you relax, fall asleep, and sleep through the night.
Unity Beverages and Protein Bars
If you are looking for a gift for someone with an active lifestyle or something to help you in your daily routine, Unity has a fantastic line of CBD-enhanced hemp beverages and protein bars you'll want to check out.
Unity's vegan-friendly protein bars come in Dark Chocolate Peanut Butter and Dark Chocolate Coconut flavors and are gluten-free.
Each bar comes packed with 20 grams of plant protein, 15 grams of fiber, and 20 milligrams of CBD to help prepare you for exercise, recover more quickly, and support bone health.
Unity designed its all-natural hemp beverages to help you unwind, infusing them with 30 milligrams of CBD and adaptogens like Ashwagandha, Rhodiola Rosea, and Ginko Biloba.
In Blueberry-Lavender, Strawberry Lemonade, Blood Orange Hibiscus, and other flavors, each beverage is low-calorie, low-sugar, and preservative-free.
Unity products are available online, at ABC Fine Wine & Spirits in the southeast, and Erewhon locations nationwide.
Good Stuff Beverages
From rum-splashed eggnog to Christmas-y hot toddies, alcoholic drinks are a traditional staple of many holiday gatherings, but for some, such beverages aren't an option.
If you are not the alcohol-consuming type, the Good Stuff Beverage Co. has a tasty variety of all-natural, THC-infused beverages that will bring a nice buzz without the booze.
In flavors like Strawberry Hibiscus (Indica), Honey Lemonade (Hybrid), Black Cherry Lemonade (CBD Hybrid), Raspberry Lemonade (Sativa), and Key Limeade (Sativa), Good Stuff's drinks are delicious on their own or mixed into your favorite mocktail recipe.
High Life Farms Nuggies
Great as a gift or a special treat for yourself, High Life Farms Nuggies are salty-and-sweet THC-infused snacks that are perfect for the snacking cannabis consumer.
Nuggies are crunchy salt-dusted pretzel balls coated with milk chocolate, other flavors, and an ample dose of THC.
Nuggies come in Chocolate Peanut Butter, Peanut Butter Banana, and Strawberries and Cream varieties.
Other flavors sold in Michigan include Toasted Marshmallow and Michigan Cherry Pie.
All varieties of High Life Farms Nuggies come in 100mg packages, 10mg per piece.
MXXN
If you are not the booze-consuming type but would like to wet your whistle with something similar, MXXN (pronounced 'moon') has three new non-alcoholic spirits you will want to check out.
MXXN's London Dry is a replacement for gin, with floral aromas and notes of citrus, juniper, and cucumber.
Jalisco Agave, a tequila substitute, features a sweet agave flavor blended with oak vanilla and hints of flint and salt.
Kentucky Oak combines complex notes of charred oak with vanilla and the sweetness of demerara sugar.
MXXN's non-alcoholic spirits can be enjoyed on their own or mixed into your favorite cocktail recipe as an alcohol replacement.
Fifths (750ml) of MXXN spirits (100mg THC per bottle) are available for $79.99.
Insane Churro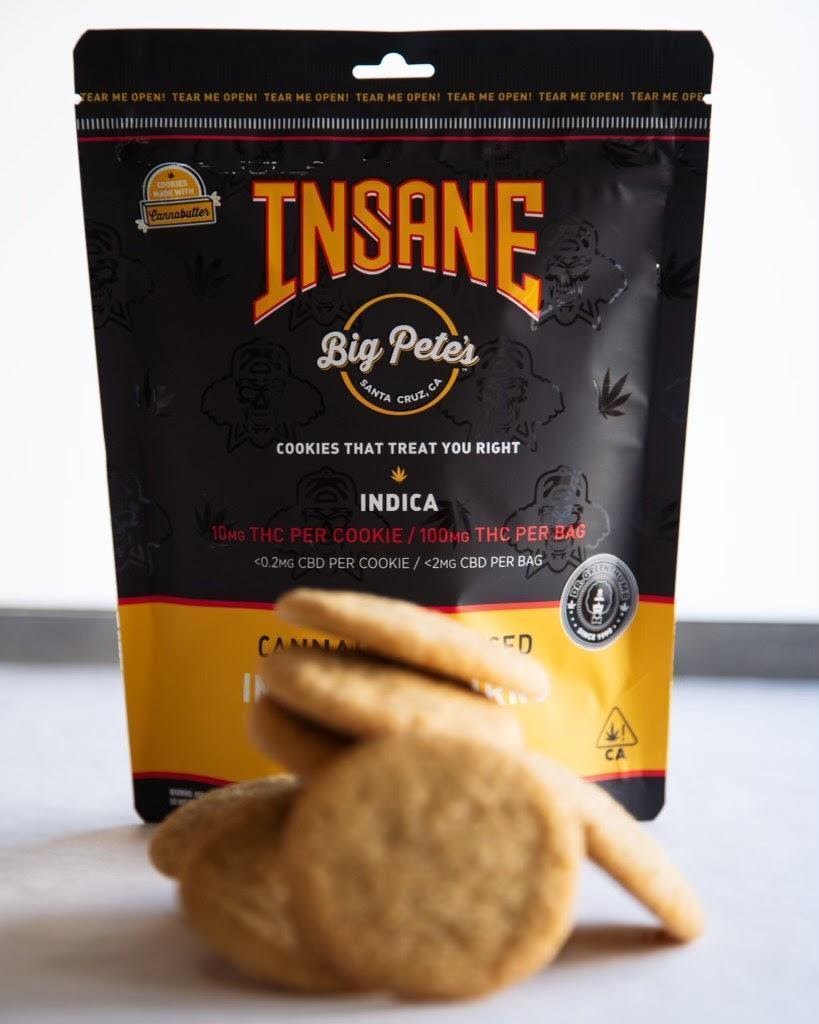 For a holiday flavor with an extra cannabis kick, look no further than the B-Real's Insane Churro mini cookies from Big Pete's Treats.
Whether you enjoy them warmed up or right out of the bag, 10mg Insane Churro cookies are the perfect cannabis-infused compliment to a Christmas-y mug of hot cocoa or hot apple cider.
Incredibles Cookies & Cream
No Christmas season is complete without cookies, just ask the guy who climbs up and down chimneys all night on December 24.
A perfect compliment to the holiday season is incredibles' Cookies & Cream bars, which take the classic flavor of chocolate sandwich cookies and combine them with white chocolate and 100mg-per bar of consistently-dosed THC.
Valhalla Confections Gummies and THC Beers
For precisely-dosed edibles with loads of flavor, check out Valhalla's selection of gummies and THC-infused beers.
Infused with 10mg-each of THC or CBD, Valhalla gummies are available in bold flavors like Spicy Pineapple Mango, Strawberry Lemonade, and Sour Watermelon.
Just for California residents, Valhalla has two non-alcoholic, cannabis-infused beers that they produce in collaboration with Sonoma-based Barrel Brothers Brewing.
Valhalla's Hazy IPAs (30 IBU) and Blonde Ales (35 IBU) are dealcoholized through a low-heat process, allowing the beverages to retain their natural terpenes and bold flavor.
Each 16.9oz bottle contains 10mg of THC.
Valhalla products are available in California, Nevada, and New Jersey.
Sweet Talk
For sweet treats that you can take with you during your holiday excursions, consider a bag of Sweet Talk gummies or a bar of cannabis-infused mint dark chocolate.
Sweet Talk infuses its gummies and chocolate treats with 5mg-per-serving of THC (20 servings per bag/bar) to give you a little cannabinoid boost when you need it.
Sweet Talk products are available at select dispensaries in California, Connecticut, Florida, Massachusetts, Pennsylvania, West Virginia, Arizona, and Maryland.
Kanha Nano Sugarplum Gummies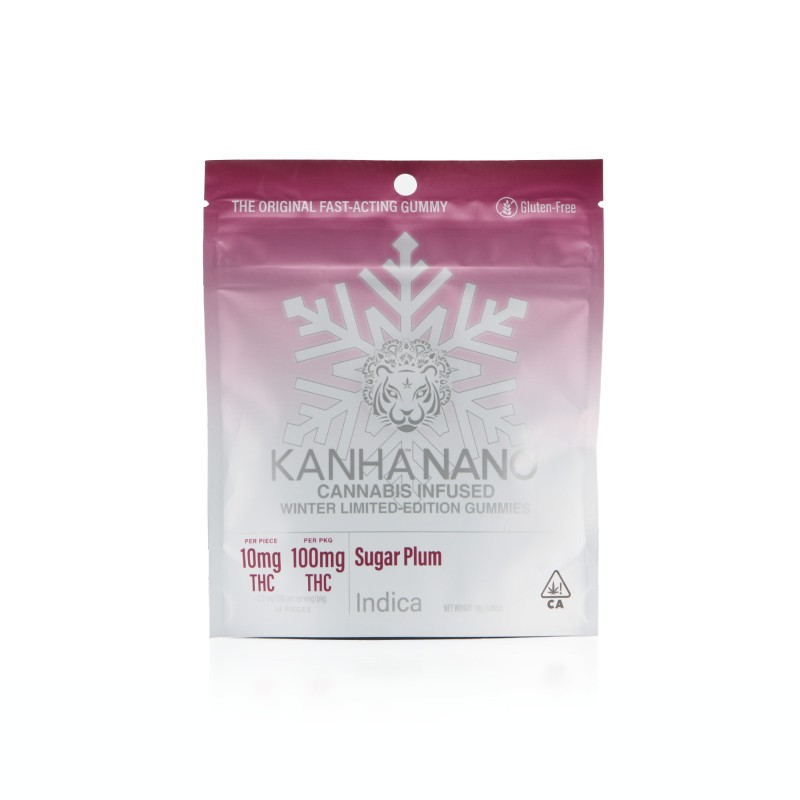 While children are nestled all snug in their beds, and visions of sugar-plums dance in their heads, the adults will want Kanha's infused gummies instead.
Just in time for the holiday season, Kanha has released a limited-edition Sugar Plum gummy flavor.
Infused with 10mg-each of nano encapsulated THC, Kanha's Sugar Plum gummies have a reduced onset time and consistent Indica effects.
Plus Strains Sugar Plum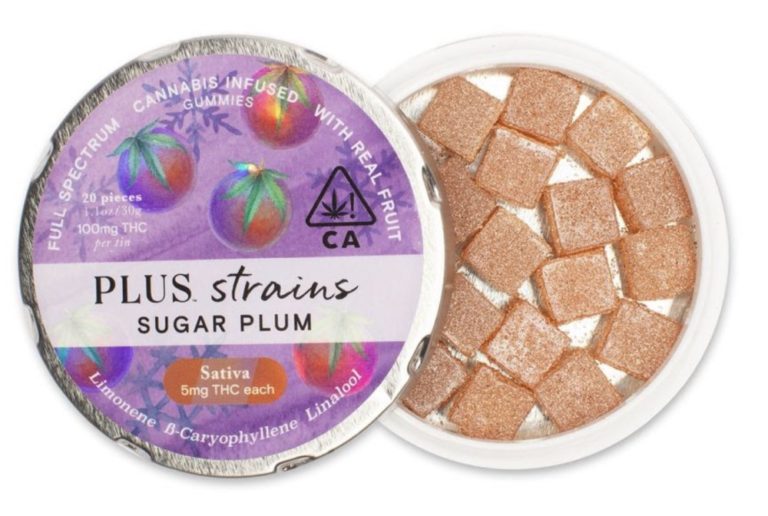 With blending of Berkley Blues and Hawaiian Haze Plum strains, Plus Products' Sugar Plum gummies will make your spirits bright and put the holly in your jolly.
The new special edition Sugar Plum flavor is a magical mix of linalool, limonene, b-caryophyllene terpenes with a sweet blend of blood orange citrus and toasted cinnamon.
The Sugar Plum flavor is a part of the Plus Strains line, which also features Lemon Jack, Pinapple Express, and Granddaddy Purple varieties.
Plus Strains gummies make a great gift for yourself, for others, or a special stocking stuffer.
Topicals, Capsules, and Tinctures
Papa & Barkley Sleep Releaf Tincture
If there's something that many of us can likely say that we probably don't get enough of, especially around the holidays, it's sleep.
And getting quality sleep can be difficult if we are stressed.
Whether we're staying up late for parties, special events, wrapping presents, or getting up early to take advantage of a special sale, we're not at our best without a full night of restful sleep.
And sometimes, for one reason or another, we just can't fall asleep at night.
If this sounds all too familiar, Papa & Barkley has a tincture to help you fall asleep faster, stay asleep, and feel rested in the morning.
Each 15ml bottle of Papa & Barkley's solventless Sleep Releaf Tincture contains 60mg CBD for relaxation, 120mg THC for comfort, and 30mg CBN to help you get a better night's rest.
A group of more than 90 participants in a two-week Papa & Barkley study reported that they fell asleep 20 minutes faster when they used the Sleep Releaf Tincture.
Daygold CBD Tinctures
While the holiday season is full of fun, festivities, and joy, it can also come with an elevated stress level.
Taking a more sophisticated approach to CBD, Daygold has a line of 100 percent natural tinctures designed to help keep you calm, relaxed, and sleeping well at night.
Formulated by neurologist Dr. Ethan Russo, Daygold fortifies its Calm Mind, Easy Relief, and Restful Night formulas with CBD, CBN, CBG, and THC (<0.3 percent).
The tinctures also feature terpenes like lavender, clary sage, and citrus to keep each formula natural and effective without intoxicating properties.
Ingredients in Daygold's tinctures are non-GMO, vegan-friendly, triple-lab tested, and carefully selected for targeted benefits.
Daygold tinctures make great gifts for others or yourself and are available on the company website.
22Red CBD Tinctures
For a convenient way to help relieve the stresses of the holidays, 22Red has a line of tinctures that are great on their own or mixed into your favorite holiday foods and drinks.
Made with pure CBD isolate from premium hemp grown in the United States, 22Red tinctures are available in unflavored, Watermelon, and Mint varieties.
Farmer & Chemist Bundles
Tis' the Season Bundle
If your busy holiday schedule affects the amount and quality of your sleep, Farmer & Chemist has a Tis' the Season Bundle to help you rest and relax.
The $95.99 bundle includes a bottle of ten All is Gel hemp oil and melatonin softgels, a CBD-infused Chill Out roll-on cooling gel, a tube of Handy Dandy CBD hand lotion, and a hemp oil-infused Youth Boost face mask.
Farmer & Chemist uses a whole-plant extraction process to produce the phytocannabinoid and terpene-rich broad-spectrum oil for its products.
Suck it up Buttercup Bundle
If you or someone you know is the active lifestyle type, Farmer & Chemist's Suck it Up Buttercup Winter Sports Bundle makes a great gift for yourself or others.
The bundle includes a stick of Lip Service CBD lip balm for dry and chapped lips, a Hot Spot warming CBD roll-on gel for sore muscles, and three Go For Woke Island Fusion CBD energy drink packets for an energy boost and post-workout recovery.
Holiday Fixins Bundle
For a little bit of calm during the hectic holidays, check out the Holiday Fixins Bundle for soothing, calming stress relief.
Included in the bundle are a Youth Boost hemp oil-infused face mask, a bottle of ten CBD and curcumin soft gels, and a jar of CBD-lavender Problem Solved Salve.
Save the Season Bundle
If holiday shopping, parties, or family gatherings tend to elevate your stress levels, Farmer & Chemist has a calming bundle you will want to check out.
The Save the Season Bundle includes a 150mg CBD-infused Hot Spot warming gel, a tin of CBD Mint Condition dissolving peppermint tablets, and a 12-count box of 25mg CBD Yummy Gummies.
Ski Lift Bundle
Depending on where you live, skiing, sledding, or snowball fights may be a part of your holiday or winter traditions.
To give you energy and recover from a day of playing in the snow, Farmer & Chemist's Ski Lift Bundle may be just the thing for you.
The Ski Lift Bundle includes a tin of Mint Condition CBD-peppermint tablets, a CBD-infused Hot Spot roll-on warming gel, a CBD-infused Chill Out roll-on cooling gel, a stick of Lip Service CBD balm, and three Go For Woke Island Infusion CBD energy drink packets.
Favorite Things Bundle
For a bit of calmness among the stresses of the holiday season, check out Farmer & Chemist's Favorite Things Bundle.
The bundle includes a 1oz tin of It's the Balm 500mg broad-spectrum CBD balm, a tin of Mint Condition peppermint tablets, a bottle of Steady Going CBD-PCR (Phytocannabinoid Rich) tincture, and a 12-count box of 25mg CBD Yummy Gummies in orange, strawberry, lemon, and cherry flavors.
The Mother of All Gifts Bundle
If you're looking for a package to help you through the holidays, Farmer & Chemist has a cannabinoid-powered bundle you'll want to check out.
The Mother of All Gifts Bundle includes a 1oz bottle of Steady Going CBD-PCR tincture, a stick of Lip Service CBD lip balm, a 12-count box of 25mg CBD Yummy Gummies, and a 1oz jar of Problem Salved salve infused with 1,920mg CBD, eucalyptus, and peppermint.
Hello Again Suppositories
If you or a lady in your life are living with physical and emotional challenges caused by menopause or other v-related issues, Hello Again would like to help provide some relief throughout the holiday season and into the new year.
Created by stay-at-home-mothers-turned-cannabis-entrepreneurs, the Hello Again mission is to help women feel like themselves again.
Hello Again vaginal suppositories come in two varieties to suit a woman's individual needs at any time of day or night.
Hello Again's 1:4 (CBD:THC) Sleep formulation can help with keeping cool and getting a restful night's sleep, and the 8:1 (CBD:THC) Everyday formulation can help improve mood, clear the mind, and reduce sweating.
Both formulations are available individually or in special holiday season double-boxes.
Gadgets, Gizmos, & Accessories
OG Otto
If you or someone on your gift list is a fan of the pre-roll, Banana Bros. has a device that's perfect for the cone-craving cannabis consumer.
The OG Otto is a self-contained automatic cannabis flower grinder and roller that makes it easy to construct the perfect joint every time.
With A.I. technology and blades that automatically adjust pressure, speed, and direction, the OG Otto can grind cannabis flowers and pack them into a cone with the push of a button.
Each unit comes with six king-sized cones, a measuring cup, a 4-in-1 tool, and a USB charging cord.
Canabolish Spray
If you partake in a before-dinner holiday smoke session to boost your appetite, you'll want to freshen up before coming to the table smelling like a dispensary.
To banish any lingering cannabis scents, Canabolish has a line of Wintergreen and Lavender sprays that will delight your senses.
The sprays can be used to clean the air of lingering odors or on water-safe fabrics.
Canabolish also has cannabis odor-removing candles and gels in Wintergreen and Lavender.
Canabolish's candles, gels, and sprays come individually, in kits, and multi-packs.
Eyce Alien Spoon
If you're in the market for a durable new pipe or looking to purchase one as a gift, check out Eyce's Proteck Alien Spoon.
Made with a flavor-retaining borosilicate glass bowl, the Alien Spoon is wrapped in platinum-cured silicone and comes with an integrated poker tool.
The silicone wrap helps protect the pipe if you happen to drop it or your cat pushes it off the table.
The $35 pipe comes in ten colors and an endless variety of unique colorway mold designs.
Eyce Mini Beaker
If you favor waterpipes over their water-less counterparts, Eyce offers a virtually-indestructible instrument of cannabis consumption.
The compact silicone Eyce Mini Beaker features a borosilicate glass slide, built-in stash jar, multi-tool, ice catcher, and multi-percolating filtration.
The Mini Beaker comes in your choice of six colors for $39.99.
DaVinci IQC
For the cannabis consumer with an active lifestyle, DaVinci has a portable vaporizer that works with both dry herb and concentrates.
The DaVinci IQC Precision Vaporizer features a 0.5g herb oven and 0.2g dosage pod for concentrates.
The airtight glass-lined herb oven uses heat-not-burn conduction for even heat distribution.
The IQC Precision vaporizer uses glass and zirconia ceramic for flavorful vapor and features a precision temperature mode and a 30-second heat-up time for quick and precise vaporization.
The device also has Type C reverse charging capabilities, allowing you to charge your smartphone with it.
Omura Series X
For people who prefer to heat their cannabis flower instead of burning it, Omura has a sleek and stylish handheld device to get the job done.
The Omura Series X dry herb vaporizer uses a dual heat source oven and proprietary Heat-not-Burn technology that gently heats the flower with a patented heat curve.
The Series X vaporizer leaves minimal vapor and no lingering odor, creating an elevated social experience.
Series X users can either fill the included Flowersticks with their own cannabis or choose from a selection of pre-filled THC and CBD strains like Lemon Meringue, Creme Brulee, and ACDC.
If you are reading this, be the first person to message me "Hempy Holidaze" on Instagram (@nuglifenews), and I will send you a free Omura Series X and two 12-packs of CBD Flowersticks (Peppermint, Sour Space OG).
The Cali
If you're looking to pack your pre-roll with a little something extra, VIBES has just the thing.
The Cali tubes, which come in 1-gram, 2-gram, and 3-gram sizes feature a wide cylindrical shape and easy-to-pack design for optimal airflow, and a big-smoke experience.
Hand-rolled in the Dominican Republic, Cali tubes come in Organic Hemp, Ultra Thin, Rice, and Hemp varieties.
Pet Products
Platinum Pet Products
In addition to offering potent THC-infused treats for humans, Platinum has a line of CBD-packed items for pets, perfect for calming your furry companion on long road trips to see family this holiday season.
Platinum's CBD pet products include a bacon-flavored 500mg CBD Pet Oil and a 500mg oral CBD Pet Spray.
King Kalm
To provide your furry companion with some extra comfort and joy this holiday season, check out King Kanine's 300mg broad-spectrum King Kalm CBD oil.
Each lab-tested, 3rd party-certified 30ml bottle is made with high-Omega-3 krill oil and hemp oil to help keep your pet happy and healthy.
Honest Paws
Honest Paws offers a selection of hemp oils for dogs to support bone and joint health and overall wellness in your pet.
Combined with ingredients like turmeric and chamomile, Honest Paws uses full-spectrum hemp oil and natural CBD to support your pet's immune system and cognitive function.
Merry Cannabismas
Whatever your plans may be this holiday season, remember to medicate safely and enjoy your time with friends and family.
*Updated 12/3/2021