By Chelsea Smith
Instagram: @thebakedunicornqueen
The holidays are fast approaching and if you have not finished up your shopping we have compiled a list of some of our favorite brands right now. Stock up for your favorite people with everything from decor to clothing, to kitchen tools we have a little bit of everything.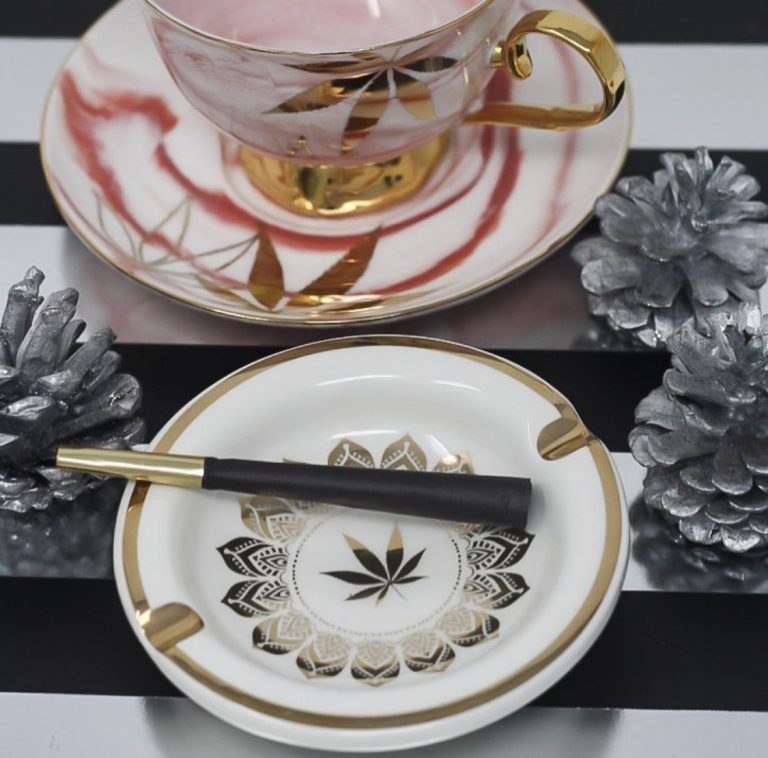 Fashionably High
This spectacular, upscale brand based out of Canada offers stunning and elegant cannabis-themed products for the Elegant Cannasiour. With totes, pins, yoga pants, all with the cannabis plant in its beauty with other floral elements to compliment. Our favorite has to be the teacups and saucers and each of them come with hand created tea sachets! You will always feel like its High Tea with Fashionably High. Shop here
Waffleye
This fun twist on a traditional breakfast is perfect for entertaining your friends! Easy and clean design offer for a user-friendly experience for any culinary skill level. Shop the Waffleye cannabis waffle iron
The Cannabomb
These handmade organic luxury bath bombs are a must for any stocking this holiday season! Each CBD bath bomb offers the perfect escape for anyone and comes in a variety of styles. Made with organic ingredients and utilizing essential oils you can really feel the love in each one. Shop Cannabomb CBD bath bombs here
Marina Fini
These laser cut glittery acrylic cannabis leaf earrings are made by Marina Fini, artist, and maker based in Yucca Valley, CA. On top of creating bright statement laser cut accessories, psychedelic visuals, and dreamy installations, Marina has converted her desert domicile into the Rainbow Bath House. Shop Green Glitter Cana Leaf Earrings by Marina Fini
Genifer M
This cannabis inspired high-end jewelry line is perfect for your special someone. These simple and elegant pieces are perfect for even a corporate setting. The price is high but this is real jewelry and worth every penny. Shop out the collection here
Humble Flower Company
This THC and CBD skincare line is BCC compliant and can be found in dispensaries in California. The heavy bath salts and other luxury skincare items make for a great last minute gift. Check out Humble Flower Company's stockist list
Kannai
This handcrafted women-owned candle company based out of San Diego offers CBD and Hemp massage candles for the masses. These organic clean burning candles double as a CBD massage oil when heated. Great for pain, athletes, grandparents and more! Shop Kannai here
5th Dimension
5th Dimension is an all natural skin care line inspired by dreamscapes, self-exploration, meditation, and the various processes of healing. SUB ROSA Serum is 5th Dimension's shining star; a hydrating and antibacterial Rose Petal infused Hemp Seed Oil which features Rosehip Seed Oil, Clary Sage, and Frankincense. SUB ROSA Serum is quickly becoming the go-to secret weapon in the arsenal of skincare lovers; it harmonizes sebum production, heals scars, and provides an unparalleled natural glow. Shop 5th Dimension skincare
Potli
This hemp infused cannabis brand offers a line of cooking oils, honey and other great additions to any kitchen. Great for adding to your tea or making pesto, their high-end ingredients are the perfect enhancement to any meal. Surprise your family or even your grandparents with the benefits of CBD in your daily diet. Check out their hemp infused line here
The Highdration Mask
This vegan cruelty-free CBD hemp sheet mask is my favorite! it tightens and heals skin with its organic and natural ingredients making it perfect for any skin type. This is another local female-owned company in California get yours here today: Shop their line of CBD Infused skin masks
Cloud 9 Clay Ceramics
Check out these handmade ashtrays from Cloud 9 Clay! Cloud 9 Clay is owned and operated by one woman army, Peyton Flynn. Based out of Philadelphia, Cloud 9 Clay offers ashtrays, dishes, mugs, vases, candles,  and more. Shop Cloud 9 Clay's ceramic creations
Blunted Objects
Cannabis legalization has brought a wave of new cannabis apparel including this great line Blunted Objects out of LA. This edgy, fun, and functional line is great for the hardcore stoner girl in your life. Who are we kidding, all moms could be wearing Blunted Objects. Shop Blunted Objects here
Makenzie Flynn Healing Mist
Makenzie Flynn's Healing Mists slip you into the perfect state of mind. Pictured above is the Relax Healing Mist, for relieving symptoms of stress and anxiety. Makenzie Flynn also offers Love, Create, Prosper, Smudge, and Sense Healing Mists. Their products can be found in various states across the US. Shop Makenzie Flynn's Healing Mists online here!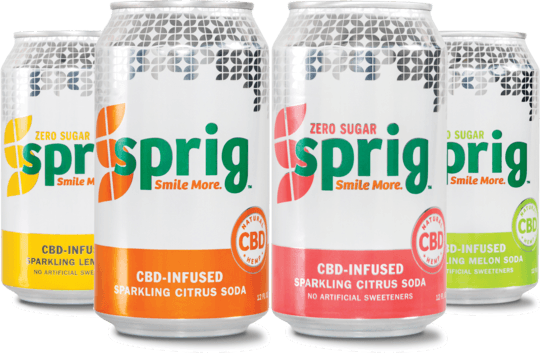 Sprig CBD Soda
Sprig CBD Soda offer zero calorie subtle sweetness and 20 mg of CBD per can. Sprig's CBD is derived from Colorado-grown industrial hemp. Use their promo code HOLIDAZE for 20% off and free shipping on your order
Muru Hemp CBD
This water-soluble CBD elixir is the perfect introduction gift to the canna curious consumer. Its tasteless, gluten-free, sugar-free and great for fast and full absorption. You can find drink recipes and more on their site! Check out Muru's products here
Dawson + Hellmann
Luxury and Cannabis CAN coexist and Dawson + Hellmann has done just that. their line of high-end sleepwear and sheets is at the top of my list! Soft, fresh cotton fabric with gorgeous cannabis designs create an air of class. Sheet sets, scarves and more are available on their site. Shop their Pot Toile line here
Crystaline
These hand wrapped hemp wick crystals are the best eco-friendly and magical gift for the spiritual special someone. Each crystal has its own natural protection or healing qualities offering a clean burn when using with flower. When you are done you are left with a gorgeous crystal for your home! Shop their full line here
Crafty Joints
These custom created joint papers and cones we just can't get enough of! Fun styles, colors, and designs plus a great line of crystal pipes! Any girl or guy will love these handcrafted cannabis accessories. Shop the full line here
Toke Tonic
A personal favorite is Toke Tonic Terpeine Infused bong water. Keep it chilled and use in your water pipes to enhance the terpene profile of your flower and activate a more intense high. They now have two terpene profiles available and this product actually helps keep your glass clean! Get your Terp Water Here
Mary Jane Swim
Southern California is always a time for a good swimsuit. Mary Jane Swim has a gorgeous line of cannabis inspired swimwear for the Cannasour in your life. Available for both men and women in many different styles. Shop their line here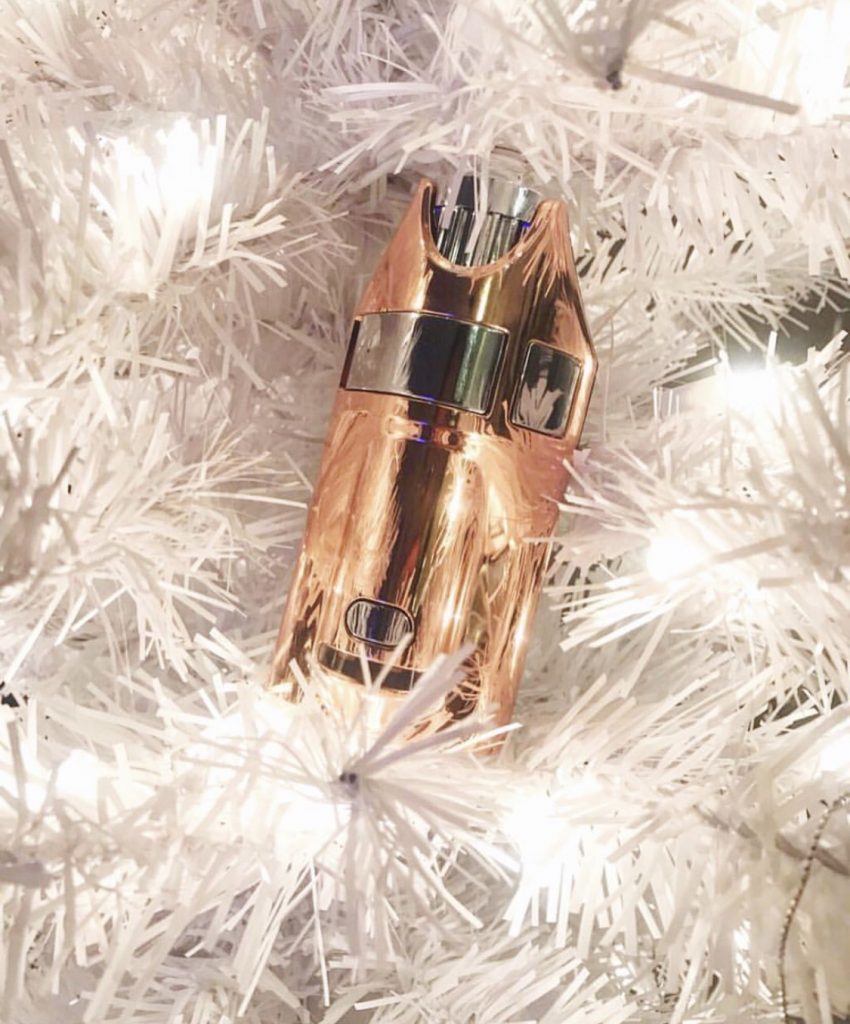 Ghost Vapes
Ghost Vapes have created a great new addition to the smoking accessories on the market. With this vape, the consumer can consume flower or concentrates with almost no smoke cloud to follow. The Ghost Vape used perfect temperatures to activate the THC and trichomes offering a different kind of euphoria from this beautiful plant. Consumer-friendly for any consumption level with lights and vibration to signal when it is ready. Shop here
Made From Dirt
Skin care in a must for today's consumer and we want natural ingredients. Made from Dirt based out of Costa Mesa, CA does just that. Their natural skin care line has something for every skin type. This growing brand is a must!! For ordering information info@madefromdirt.com 
Taboo Talks
This Women's Speaker Series in North Hollywood surrounding the Taboo Topics surrounding cannabis and women. With topics ranging from Parenthood, Trauma, Sobriety, and privilege these women will tackle them all in a fireside setting. This is an all women event so buy your lady a pair for her and a friend! Each ticket comes with a gift bag full of fun women's brands and products. The first talk is on January 13th, 2019 Get Your Tickets Here
Support local small businesses and get your last minute gifts now! Happy Holidays!!